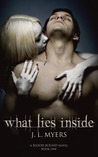 What Lies Inside
by
J.L. Myers
My rating:
5 of 5 stars
My first impression was - Wow. I'm a big fan of Vampire Diaries and Twilight so as soon as I saw the cover, I knew I was going to like this book. Turns out I ended up loving it. I found it to be an intriguing book on so many levels that I am at a loss as to where to begin.
As I got to the middle, I felt - It was gripping, utterly heart-wrenching, and completely suspenseful all at the same time. I really enjoyed this unpredictable tale, it is well written and the characters are so well developed. Kendrick and Amelia both helped to move the story forward.
As I neared the end, I thought - No. I definitely did not want this to end. The adventure was coming to a close and I wanted to see beyond. Thankfully, as I write this review I realised the author has released the second book so I'm definitely off to add that to my TBR pile.
My final impression and recommendations - The concept of love amidst hate is not new. Shakespeare did it. Countless other authors have done it. However, to pull it off in a way that a reader can experience the emotions firsthand, now that's a different story altogether. Highly recommended.
Disclosure - As a Quality Reads UK Book Club member, I received a free copy of this book in exchange for my honest review. I received no monetary compensation for my book review. This book review is based on my thoughts, opinion and understanding of the book. This book review does not reflect the opinion of other book club members.
View all my reviews